Cards are a clear and delightful way to tell your audience, "Hey—look at this!"
Take the DIYthemes home page, for example…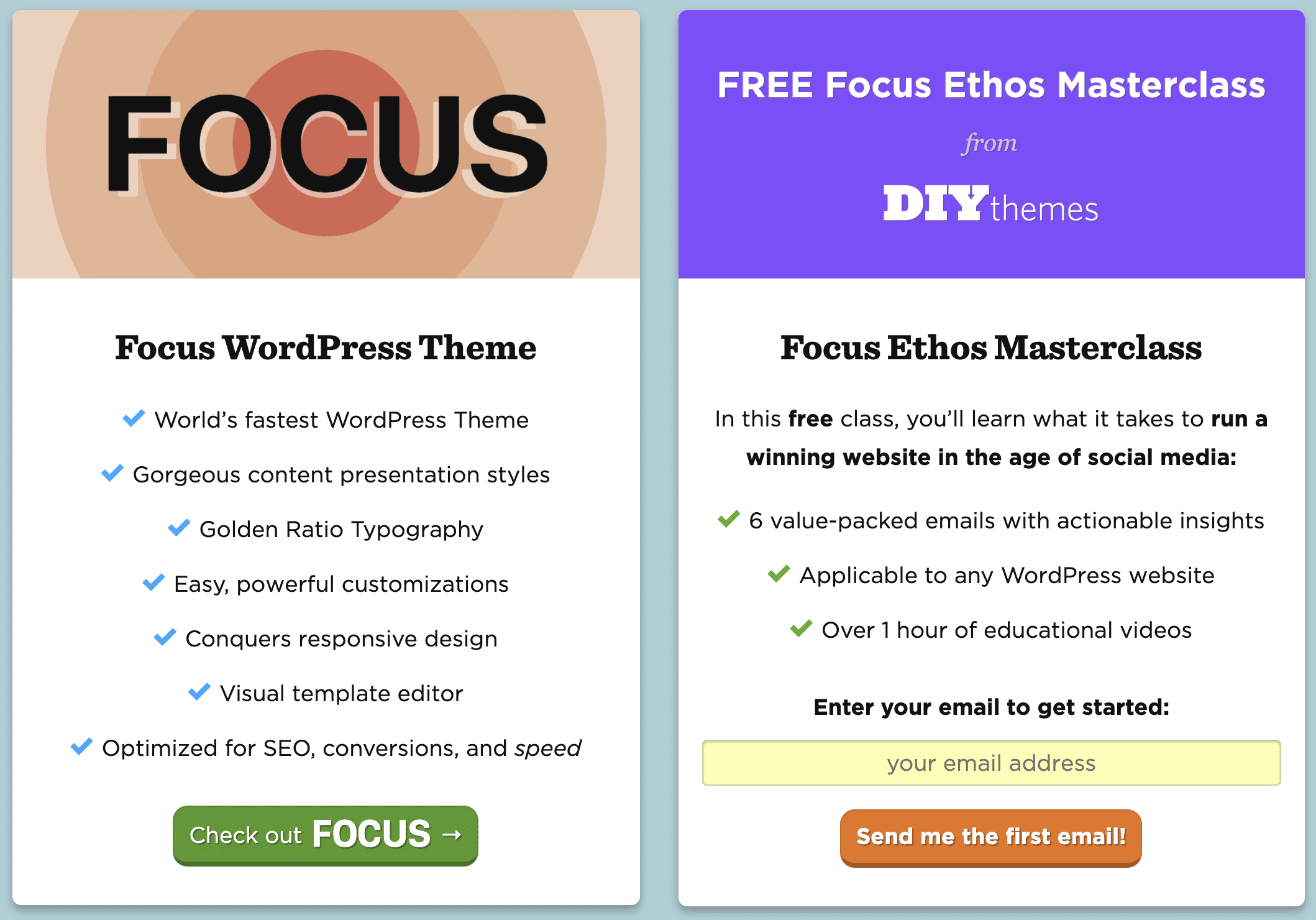 It consists of two Cards, and even if you have no idea what DIYthemes does, the Cards strongly suggest you focus on these two items above all else.
In other words, Cards are a highly effective way to channel your visitors' attention and direct it precisely where you want it to go!
Card-style presentations have proven so successful that they have become a standard element in attention design, and that's what Focus Cards are all about.
The Focus Cards Box from DIYthemes adds this critical functionality to your site while making it delightfully easy to create, manage, and display your Cards.
Let's take a closer look at how you'll use Focus Cards to create professional design outcomes in minutes…and without professional help!
See how you can create and display Focus Cards
Within minutes of adding Focus Cards to your site, you'll be able to create and display your own Cards wherever you want.
Watch this short introductory video to see how Focus Cards will up your presentation game immediately:
How will you use Focus Cards?
The sheer versatility of Focus Cards makes them perfect for just about any application. Although the possibilities are unlimited, here are some of our favorite examples:
Products or services
Eye-catching email opt-ins
Feature highlights
Courseware modules
Conference sessions
Recipes
Personal bios
Links to specific sections of your site
Bottom line? if you need to present a "thing" on your website, Focus Cards are the ultimate way to do it!
And because Focus Cards are loaded into your WordPress environment as a custom post type, all your Cards will be organized in one handy location.
This setup makes it easy for novices and pros alike—anyone can start crushing it with Focus Cards right away!
Get Focus Cards for your website(s)!
Your Focus Cards purchase enables you to add Card functionality to any website where you have a valid Focus license. 1
1 You only need to purchase Focus Cards one time, and then you can install the functionality on any number of sites where you also have a valid Focus license.
Also, this is a one-time purchase, so there's no need to worry about recurring payments.
The only thing you've gotta do is buy Focus Cards and start winning. Easy!
Attention: You must be an existing DIYthemes customer with a valid Focus license in order to purchase this product!
Already a customer?
Log in and return to this page. If you have a valid Focus license, this box will be replaced by a purchase link.
Not yet a customer?
You'll need to purchase Focus before you can get this product.
If you have any questions, please open a new topic in the DIYthemes forums, and I'll help you out.
P.S. Check out the Focus Cards documentation for two more informative videos that reveal what you can do with this exciting new functionality!
Common Questions About Focus Cards
Do I need to purchase Focus Cards separately for each Focus site?
No! You only need to purchase Focus Cards one time, and then you can install the software on any site that has a valid Focus license.
Can I use Focus Cards on sites for clients?
Yes! You can use Focus Cards on any website that has a valid Focus license.
Can I use Focus Cards on a Thesis site that isn't running Focus?
While you can create and manage Focus Cards on any Thesis-powered site, the options and resulting CSS styles are all tailored specifically for Focus environments and are not guaranteed to work with any other Thesis Skin.
This is why they're called Focus Cards—we only recommend this functionality if you are already running Focus.
Will Focus Cards work with my favorite Page Builder?
Absolutely! Focus Cards will not interfere with your favorite Page Builder, and you can use the built-in shortcodes to output your Cards in any shortcode-enabled text area within WordPress.
Do Focus Cards work with the Gutenberg editor?
Yes, Focus Cards work the same way with both the Classic and Gutenberg editors.
How does support work?
As with all of our products, you can visit the community forums or request private email assistance if you run a website with sensitive content.
Most customers prefer the forums for faster response times.
Can Focus Cards be translated?
Yes—the Focus Cards software can be translated into any language via the focus-cards textdomain.
Do you offer refunds?
No! Given the nature of the software, refunds are not available for Focus Cards.
Still have questions?
If you still have questions about Focus Cards, feel free to email us: diythemes@gmail.com.