Thesis is equipped with the most refined customization tools the WordPress theme world has ever seen.
Official Thesis Skins from DIYthemes use these tools to deliver Design and Content options that provide unparalleled control over your design.
Mathematically Precise Design Options
Whether you're tweaking fonts, sizes, colors, or even your layout, you'll benefit from the rigorous precision of Thesis Skin design options.
Finely-tuned Typography
For years, Thesis has been regarded as the standard when it comes to gorgeous typography and pixel-perfect design. And now Thesis Skins have cranked this legacy into overdrive.
With golden ratio typography baked right in, our Thesis Skins apply detailed tweaks to your entire layout whenever you change fonts or font sizes.
These precise mathematical adjustments ensure everything in your design perfectly accommodates your chosen customizations.
Powerfully Simple Color Controls
Thesis Skins come with easy-to-use color pickers that provide big power in a little package.

Thanks to these incredible font and color tools, you'll be able to experiment like never before.
And in no time at all, you'll be designing like a pro because Thesis will mathematically optimize your customizations to ensure that every change you make is a good one.
Content & Display Options: Show, Hide, and Edit Design Elements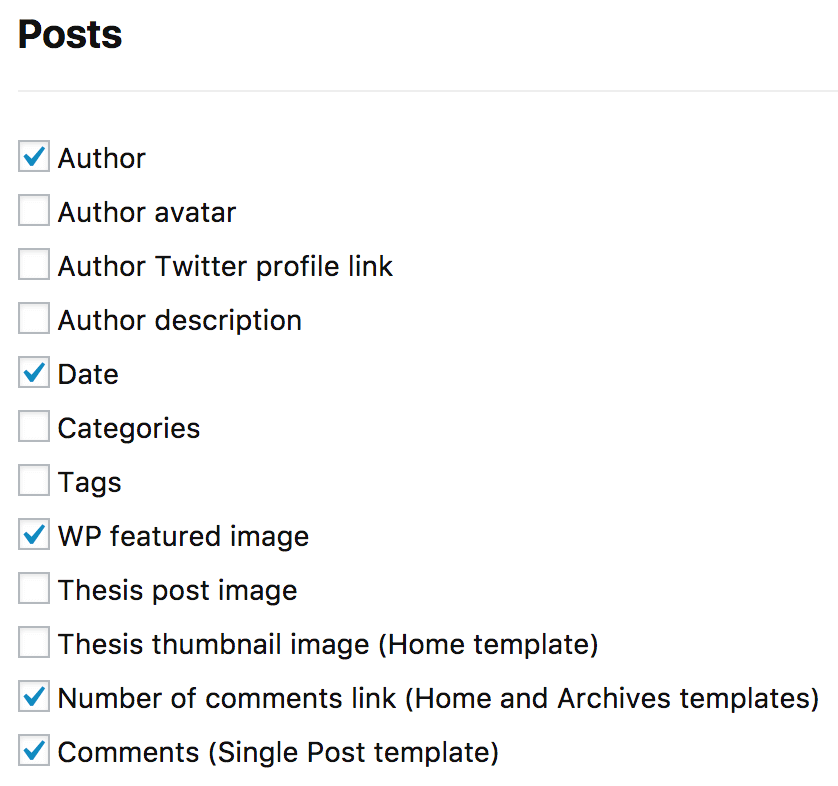 If you've ever customized a WordPress theme, then you know how tedious it can be to get rid of (and especially to add!) certain elements within the design.
Our Thesis Skins have condensed this exercise down to a single click:
Instead of fiddling with code or waiting on a designer to make these changes, you now have the power to customize the display of your entire site within seconds.
Beyond this, some elements have settings and properties you might want to change. You can do this quickly and easily from the Content & Display Options.
For example, let's say you don't want to show the date your posts were first created; instead, you'd like to show the date your posts were last modified.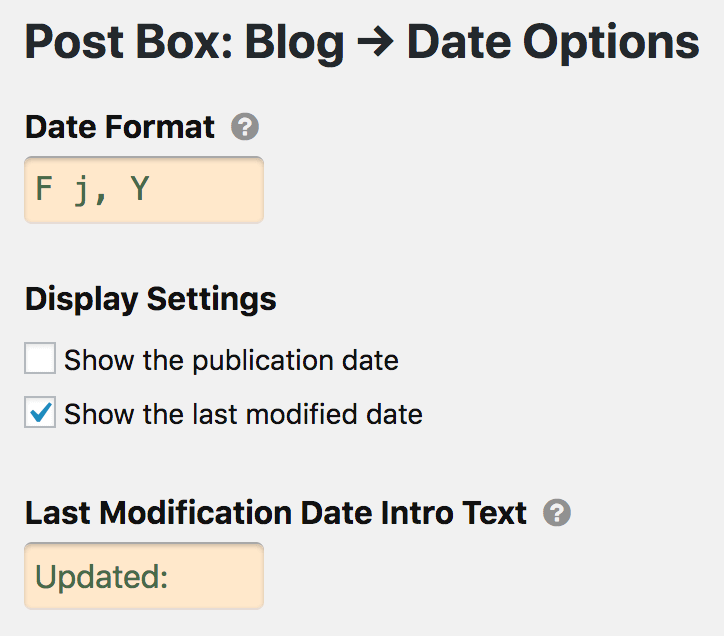 To achieve this, you can simply edit the Post Date options as shown above. And you can even change the text that displays before the date as well as the formatting of the date itself!