This article is deprecated! Any technical information refers to software versions that are now obsolete. Please visit the DIYthemes Blog for current updates, or check out the old Thesis Blog for a treasure trove of website marketing insights.
You know that email marketing is one of the best ways to grow your business.
How do you get started with email marketing?
You'll need an email signup form. We've pre-coded email forms for those of you using AWeber, MailChimp, and GetResponse.
But today, we want to give you one last freebie that should make adding an email signup form to your site even easier.
The Problems We Set Out To Solve
Anyone who uses WordPress knows about WordPress widgets (and how easy they make editing your blog).
Since Thesis has a widgetized sidebar, you can tweak your sidebar anyway you want by simply dragging and dropping a widget in the sidebar area.
Previously, if you wanted to install one of our option forms before, you had to use a text widget to do so. While this was relatively easy, it posed three problems:
You needed to rely on using some extra HTML
It often made your widget area a little extra clunky
It was a little harder to understand for some less experienced WordPress users
So, we had a great idea…
Why not specially develop a widget that can streamline the installation process of an optin form?
One that required little-to-no knowledge of HTML and can be easily edited.
Good idea, right?
Right!
The Email Opt-in Form Widget (And it's All Yours)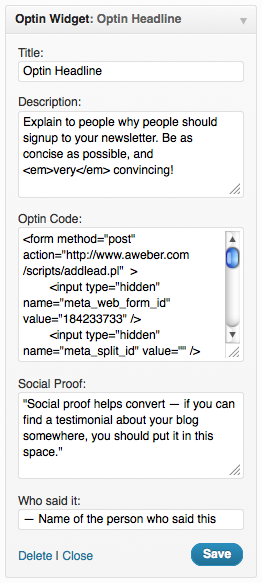 Check out the image to the right, and you can see just how flexible this widget is.
How great? It gives you LOADS of options that make tweaking and adding an email signup form to your sidebar a cinch. Here's what it can do:
Add your own title — Set the title of your optin form to anything you want, and easily change it later.
Write your own description — You are given a text area to write a short description/pitch of what your newsletter is all about.
Paste your optin code — You can paste your very own optin code right into this widget and not worrying about going back to your FTP to edit it anymore.
Add social proof — We're big on social proof here and if you want to add a quote or testimonial you received from someone about your newsletter, you can paste it right into this widget.
This widget is incredibly easy to use, and it displays an beautiful opt-in form right on your blog.
Take a look at the optin form I created using this widget in my upcoming Thesis skin, Marketers Delight 2: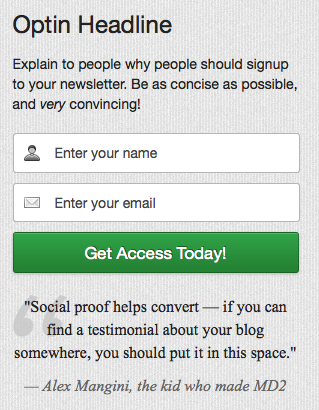 Well, with this widget, you can have an equally beautiful opt-in form on your blog right now. And it's free.
Download This Widget
Just click the big button you see below to download this awesome widget. Everything you need to know about this widget is in the ZIP folder you are about to download, including:
Detailed installation instructions (it's easy to install)
How to customize your signup forms (for the non-code-savvy)
Tips for formatting and managing your code

Warning: If you copy and paste the code incorrectly, you can create a PHP error on your site. To fix that, you'll need FTP access so you can remove the code that you added into the custom functions file
Once you have the widget up and loaded on your site, be sure to show it off in the comments! I can't wait to see how you guys use this great tool on your site.