By adding a timeline and thread capability to your website, you can reclaim benefits you've been giving up to Big Tech for years.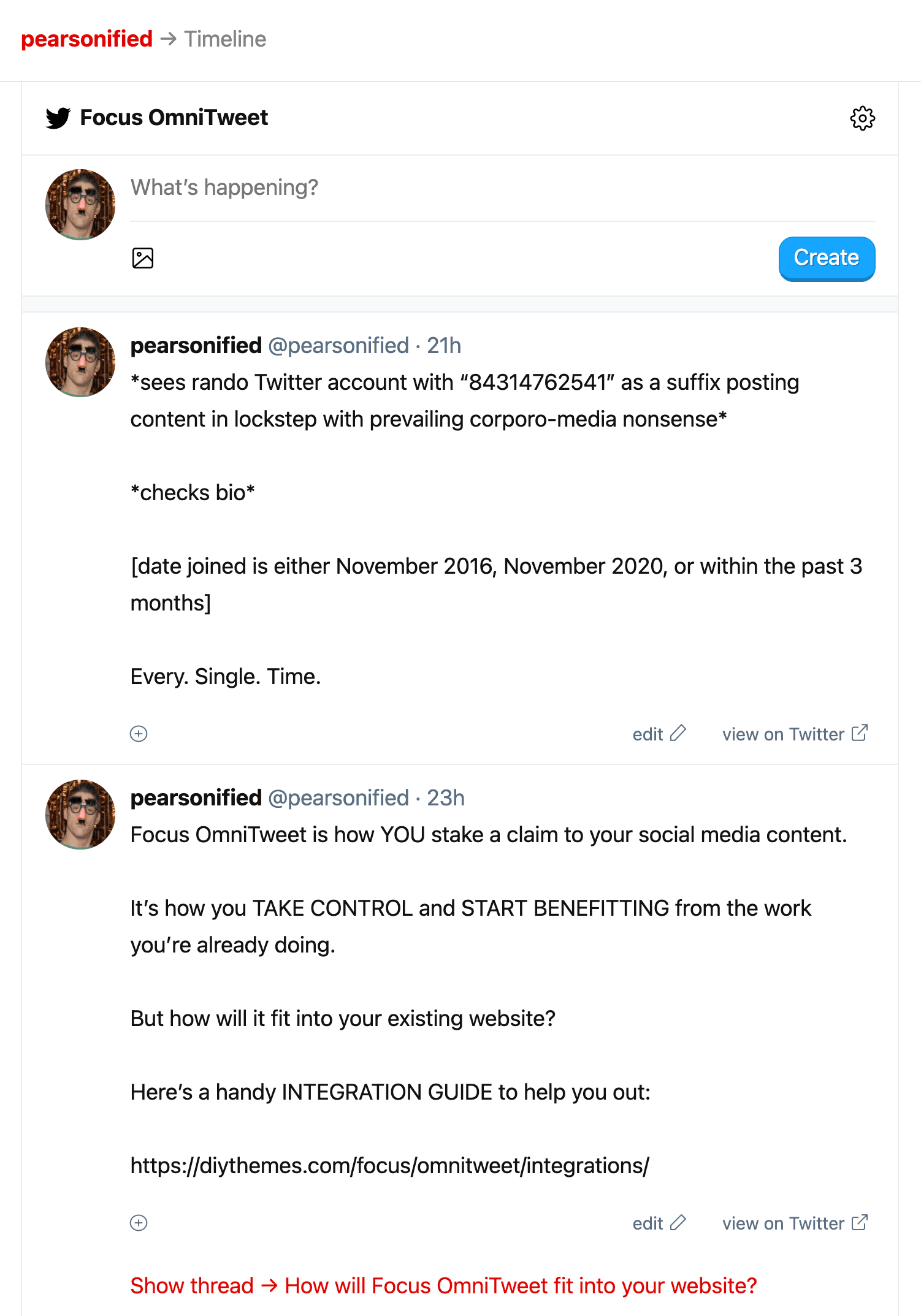 Here's how it works:
Instead of posting directly to social media, you can now create tweets and threads on your own website, where they'll be safe from the threat of cancellation or shadowbanning.
After crafting your content—and editing it, if you want—you choose when to post it to Twitter. This flips the script by making your website the origin point for your content, not Twitter.
And with Focus OmniTweet, you'll be able to build out your website automatically through the efforts you're already making on social media (like creating valuable content threads).
As cool as that is, it's not even the best part…
Have you ever thought about monetizing your most viral content? 🤔
Hard to do on Twitter—but with Focus OmniTweet, you can enhance your best content with sales pitches, opt-ins, or any other call-to-action you can imagine!
Bottom line?
Simply do what you're already doing—posting short form tweets and threads to your social media accounts—and OmniTweet will handle the rest:
Automatically generating easy-to-read thread pages 📖
Setting up your site to become an SEO powerhouse 📈
Creating new monetization opportunities 💰
What's the big idea here?
You're already putting a ton of effort into your social media presence—in fact, this is where a vast majority of your content creation now takes place.
But unfortunately, these efforts are fragile because your account could be cancelled at any time…for any reason!
And that's not all—by posting solely to social media sites, you are giving up some of the most critical benefits of creating content on the internet:
Ownership — When you post content on your site, you own both the content and the resulting benefits
Authority — An organized, information-rich website can become an authority in any niche, leading to countless opportunities for you or your business
SEO — Enjoy more traffic over time as your website improves through consistent content production
Monetization — Your website is the best way to turn fans into customers
In other words, it all comes down to control.
When you control your content, you also control the benefits. But when you cede this control to social media platforms, you cede everything—security, visibility, traffic, SEO, and revenue potential.
That's a bad deal.
But Focus OmniTweet solves these problems and tips the playing field in your favor.
After all—it's your content, and you should be the one benefitting from it!
How can you get Focus OmniTweet?
Before purchasing Focus OmniTweet, please consider these critical details:
YES, Focus OmniTweet is optimized for use on mobile devices!
OmniTweet requires the Focus WordPress Theme. But hey—if you're running a different Theme and don't want to switch, you can still run OmniTweet (and we can help!)
Your new social media workflow will be: Creating content on your site → editing if necessary → posting to Twitter by clicking a button
For now, OmniTweet only supports images; gif and video support will be added in an upcoming release
OmniTweet does not support quote tweets, retweets, replies, or Direct Messages. Quote tweets and retweets will likely be supported in an upcoming release, but for now, you will still need to undertake these actions directly on Twitter.
If any of those is a deal-breaker for you, please refrain from purchasing.
However, if you're ready to take control of your social media content and flip the script on the Big Tech censors, you will love Focus OmniTweet!
Attention: You must be an existing DIYthemes customer with a valid Focus license in order to purchase this product!
Already a customer?
Log in and return to this page. If you have a valid Focus license, this box will be replaced by a purchase link.
Not yet a customer?
You'll need to purchase Focus before you can get this product.
Common Questions About Focus OmniTweet
Does Focus OmniTweet require WordPress?
Although Focus OmniTweet requires WordPress, your website does not have to be running WordPress right now.
As long as your website is hosted on a PHP-enabled server, we can get OmniTweet working for you!
Want some peace of mind before buying? Please contact us for a free consultation!
Will Focus OmniTweet work with my WordPress Theme?
Technically, no—OmniTweet requires the Focus WordPress Theme. But…
It's easy to run Focus OmniTweet alongside your existing WordPress Theme. (In fact, this is a really smart way to do it because your timeline and thread pages will be much faster and simpler than the rest of your website.)
See the Focus OmniTweet implementation guide for more information, and remember—we are happy to help you set it up for free!
Can I optimize my OmniTweet thread pages for SEO?
Absolutely! Your thread pages are just basic WordPress pages, so all the typical optimizations—including anything added by SEO Plugins—will be available on your thread pages.
For example, whenever I roll out a new thread page, I always optimize the URL slug and page title.
And that's not all—you can also turn your thread pages into high-converting machines that will benefit you or your business, even while you sleep!
See this short video about how to dress up your thread pages for maximum effect.
Do you have any demo videos showing the UI and functionality?
Do you have any timeline and/or thread examples?
Check out these fine examples:
Do I need to purchase Focus OmniTweet separately for each website?
No! You only need to purchase Focus OmniTweet one time, and then you can install it on any site that has a valid Focus license.
Can I use Focus OmniTweet on sites for clients?
Yes, you can run Focus OmniTweet on any website with a valid Focus license—including clients' sites!
How does support work?
With your Focus OmniTweet purchase, you'll get access to the community forums as well as private email assistance if you run a website with sensitive content.
Most customers prefer the forums for faster response times.
Can Focus OmniTweet be translated?
Yes—Focus OmniTweet can be translated into any language via the omnitweet textdomain.
Do you offer refunds?
Under certain conditions, yes.
If we are unable to get Focus OmniTweet working on your server, we will absolutely issue you a refund.
But be warned—we don't do buyer's remorse! If you don't understand what you're buying, don't buy it!