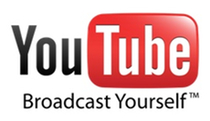 Even though YouTube is known for sneezing pandas and the "Bed Intruder Song," it can help you build your web presence too.
How does YouTube help your website?
A YouTube channel supplements your website by allowing you to market your site with online videos. In addition to adding character, depth, and an additional source for lead generation, having YouTube videos also gets you listed in one of the largest search engines online, YouTube Search.
With all those benefits, a YouTube channel should be a priority. If you're ready to get started with your own channel, here is the beginner's guide to YouTube marketing:
Evaluate the account options
For most of you, YouTube channels come in two forms: User and Partner.
User channels are free, basic accounts that anyone can start.
Partner channels must be accepted as a YouTube Partner, either via an invite or an application. Partners get a share of revenue from ads that run on their videos, and more control of their channel's design.
To get started, create a User account and you'll have a channel immediately. If you reach a wide enough audience and produce quality videos, there's no harm in applying for a Partner channel either. You may get turned down, but it's worth a shot.
Note: There's a third type of channel reserved for Brands. Since it doesn't apply to most bloggers, I left it out.
Post your best, original content
So you've got your account and channel set up. Now what? Start producing and posting videos. Your "feature reel" should boast your top-of-the line material since it'll be the first thing visitors see. Your goal is to make a good first impression.
What type of video content works? Here are a few ideas:
Testimonials — Sanford Brown, the ubiquitous education outlet, showcases alumni testimonials, hoping to speak to an array of prospective students.
Product Descriptions — The online jewelry hub Gemvara features more straightforward product descriptions that allow consumers to see how jewelry actually looks on a human hand.
Screencasts — If you're running an information-based blog like DIYthemes, you can also create Screencasts similar to the one posted earlier this week. People enjoy hands-on training like that.
Humorous Viral Videos — Pandas and Bed Intruders anyone? It's not 100% business related, but it can get you a lot of exposure.
Remarkable Demonstrations — Selling a guitar training product? Show off an awesome guitarist, and upsell your product.
Manage and Promote your channel
If you start a YouTube channel and let it collect dust, it's useless. So, remember to keep your channel fresh with new videos. You should also actively promote your channel because the more views you get on your video the better.
How can you get more traffic to your YouTube videos?
Seek out users with similar content, and email them. You could potentially cross promote each other.
Use Bulletins, which are brief messages you write on your own page, like a status. On other users' pages, you can write bulletins to leave comments on their works, successfully exposing your account to them.
Leave video responses to other videos.  Make sure your response is relevant, well-produced, and on topic because YouTube will link your video from the other video's page, successfully getting you more exposure.
Create and join YouTube groups. Additionally, tag and categorize your videos. When you join groups and categorize, you're linking your videos to other videos on YouTube, and gaining additional exposure.
You don't need to create a new video each day. Another DIYthemes author, Chris Johnson, discovered that most small business websites only needed a few videos to kick-start their online marketing.
The Bottom Line: YouTube Helps You Generate Sales Leads
Yes, your YouTube channel can generate sales leads for your company, but it's not about selling your viewers directly. Instead, you should entice your viewers to click through to your website.
And when they hit your website, you should have a conversion-optimized lead form ready and waiting (Hint: offering a free download in exchange for a name and email is one of the best ways to get leads).
Don't expect to have massive success overnight. Being part of the YouTube community requires time and energy. However, if you follow this beginner's guide, and make a concerted effort on YouTube, you'll be well on your way to reaching a new audience.