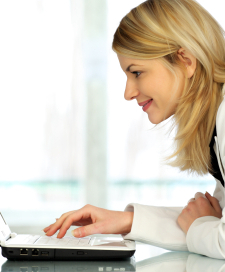 If you're not using Webinars for lead generation, after reading this article, you'll want to start.
When people want to attend a Webinar, they must part with their name and email, which means you gain a new lead for each webinar participant.
Do you know the best part?
People happily part with their information because webinars are high-value, hands-on training, that they can experience from the comfort of their own home. It's really win-win. You get leads, they get training.
So, the question is, how do you promote your webinars?
1. Blogging and Guest Posting
There are two key ways you can use your blog to generate leads for your webinars:
1. First, you can write a blog post about your upcoming webinar. Even though your readers are on your list, you'll attract new people from the social media sharing.
2. Secondly, you should invite other high profile bloggers to host a webinar with you. If they promote it, that's great. If they don't, you created a more compelling offer for people to sign-up.
If you want to see these two strategies in action, look no further than Laura Roeder and Ramit Sethi. Laura regularly promotes her webinars on her blog, and Ramit regularly pulls in high profile people like Tim Ferriss to encourage additional signups.
And finally, if you don't have a blog, you can always write guest posts for other bloggers to promote your upcoming webinar. Most people will allow you to link to the registration in your byline, so yes, you can build a list, without having a blog, too.
2. Twitter
Hubspot uses a retweet button on each of their webinars, and it does them well. However, not everyone has the luxury of a Hubspot sized list.
Personally, when I promote my webinars, I send out 1-3 updates each day on Twitter, for four days leading up to webinar.  It's not my main source of lead generation, but it does net me between 100-200 additional subscribers to my list.
Some people say that Twitter isn't as powerful as it used to be, however, if you're promoting your webinar and you're trying to fill seats, would you turn down free emails? Can't beat free :-D.
3. Affiliates and Strategic Partnerships
There are several people with large audiences who don't run webinars because they're uncomfortable with them. You can reach out to one of these people and hold a webinar with them. Then, at the end, you pitch a product and split the profits.
While this sounds like your typical affiliate / JV deal, it's not. When you run a webinar for someone else, you bring the content and the product, and they bring the people.
Yes, you help someone else make money, but for each person they refer to the webinar, you gain a new subscriber for your email list. Pretty cool, right?
4. Facebook Events and Ads
When you run webinars, taking advantage of the Facebook events feature is a great way to get additional sign-ups. Remember, webinars are a live event, so using the event feature makes complete sense.
Additionally, another great way to get NEW people on your webinars is with Facebook ads. I've done this several times, and it usually works out to a dollar a lead. And, if you're promoting an offer that sells, you often make your money back and keep the leads for free.
5. LinkedIn Groups and Events
LinkedIn is by far my favorite place to generate leads. If you own your own group, you can send messages to that group once a week to promote your webinar. The larger the group, the more people are likely to opt in for your webinars (especially if the topic is relevant to the group).
You can also create an event on LinkedIn, and promote that event—your webinar—to the group. This is a great strategy because it keeps everything within Linkedin, and helps increase conversion rates.
The Bottom Line
Webinars are, no doubt, powerful for lead generation. Do you use webinars? What are some of your strategies? How do you get new people to sign-up?
About the author: Lewis Howes is the author of two books on LinkedIn and the creator of Linked Influence. He's also considered one of the "go-to" experts on webinar marketing.