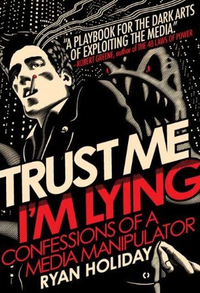 My name is Ryan Holiday and I am a media manipulator.
Or, well, at least I was…
I have a different approach today.
But if you'd have asked me just a few years ago how to build a brand from nothing—how to get press, sell books or move products—I'd have told you to do three things:
Lie
Cheat
Steal
Lie
I'd tell you to tell reporters and bloggers whatever they'd need to hear to write about you. I'd tell you to do things like I did with HelpAReporterOut.com, where I faked being an expert on 25+ media outlets in less than 4 months, including the New York Times.
I'd tell you to lie to Wikipedia and edit your own page and pages that can get you credibility. I'd tell you that it's fair game to send fake emails to bloggers pretending to be a fan advocating that they write about [the business I was promoting].
Cheat
Rules are for suckers, I used to believe. So I broke the unwritten ones. I'd buy advertising on blogs I wanted to develop relationships with. I'd make it all a little easier by throwing some money around, whether that was fair or not.
I'd buy Facebook fans for my clients (2,000 fans at $80 a pop) to make them seem more notable and more attractive to write about. Then when someone would write about one of my clients, I'd put fake comments at the bottom to make the article look popular. Or I'd buy traffic (for less than .01 a click) and send it to the site until the article was the most viewed of the day.
I'd do anything to get an edge.
Steal
Attention is what I was after, so I stole it.
I knew that once you got a click, a user couldn't exactly take it back, so I'd get it however I could. Time and attention were valuable resources, and I took them from people when they were expecting real news.
Many times I designed elaborate ruses, that while totally fake, generated millions of impressions. I partnered with bloggers to snag attention through scandals, controversies and "news" that eventually turned out to be highly exaggerated or distorted. But by then it was too late, I already had what I wanted.
How could you…
I'd tell you to do these things because they worked. In a lot of cases, they were the only options available. But notice I said "workED." Past tense. They are no longer so effective.
More importantly, I have also seen the consequences. "Feeding the monster"—the monster that is our online media cycle—is effective only so long as the monster bites anybody but you. Too many of my clients have been attacked by the same reckless and greedy bloggers who I previously conspired with to lie, cheat and steal.
So…where to from here?
Those media manipulations happen every single day and now that I have exposed them, I have some better advice for people. I can tell you how to build a brand better, faster and more ethically. It will not be, however, quite as easy. (But that's good because if it was easy, everyone would do it)
Bake Spreadability Into Your Product
Inside Amazon, to get the green light to develop a new product, employees must first present a press release to their supervisor. The idea is that if you can't already see how to sell it to the media and the public, don't bother making it.
When Zappos produced 58,000 videos of its shoes being modeled by real employees, sales of those items jumped more than 10%. Why? Because now there was something made you stick to the page, it gave users something to share, to visualize and to talk about.
As Henry Jenkins at MIT says about online media: "if it doesn't spread, it's dead." It is so much easy to market your products if you think about what will make people want to share and spread it from the beginning, rather than desperately trying to do so after you've launched.
Build Permission Assets
Rank them in this order: Email lists. RSS subscribers. Facebook Fans. Twitter Followers (and depending on your business, plug LinkedIn in there too). It doesn't matter how small your followings are, a permission asset is the best way to reach them.
For example, I've built a small list of people who like reading recommendations from me. Less than 3,500 subscribers have bought well over $50,000 worth of books from this small newsletter.
THAT is the power of permission. Invest in building these lists—with ads, incentives and time and dedication—because they will pay big dividends.
Make Connections
How much time do you spend actually getting to know reporters, bloggers and influencers? If the answer isn't "a lot," then how can you ever expect them to promote your work?
Connect with reporters by giving them story ideas that don't benefit you directly today, in order that tomorrow they'll listen to your pitches about yourself.
Travel costs to a conference where you can meet many influential bloggers or journalists might cost a total of $500. But the coverage it generates for your business could be worth $5,000–a 10:1 ROI!
Don't network—make FRIENDS. Develop those friendships and connections for the long term.
It will go a long way.
Conclusion:
This is the future, I've come to see. You could even say I've reformed. I'm not saying that what I'm advocating is easier. It isn't. My former tactics were low hanging fruit that I happily picked. But often that fruit sat on top of land mines. I'm telling you it isn't worth it.
Build your brand the right way. Build spreadable, great products that lend themselves to word of mouth referrals. Build permission assets that you can use long term to reach people. Build connections and a base of friends and supporters who you can rely on to get the word out. This stuff is harder but worth it. Trust me, I'm not lying.
Enter Derek Halpern…
Before you leave a comment on this article, I wanted to let you know that Ryan Holiday has a new book coming out tomorrow… It's called Trust Me, I'm Lying.
I'm friends with Ryan and he sent me an advanced copy of his book, and I can tell you that there are two reasons why this book is a must-read.
First, when you're building your blog, you can learn how to spot a media manipulator who's trying to take advantage of you readership.
(When you read this book, you'll see how some media manipulators go to great lengths to take advantage of bloggers).
Second, you'll see how a former media manipulator actually worked. He defaced billboards, ran R-rated ads with the intention of getting them pulled, and created "fake news" by "trading up the media ladder."
(While I don't recommend you use any of the tactics he shares, you're better off knowing about them to prevent you and your company from getting taken advantage of).
Plus, the trailer for this book is probably the best one I've ever seen. Check it right here: