This article is deprecated! Any technical information refers to software versions that are now obsolete. Please visit the DIYthemes Blog for current updates, or check out the old Thesis Blog for a treasure trove of website marketing insights.
It took me a lot longer than expected to bring this bad boy to market, but the day has finally arrived. Thesis 1.0 is now ready for download, and I think that after five minutes of poking around this new platform, you'll agree that the WordPress theme world will never be the same.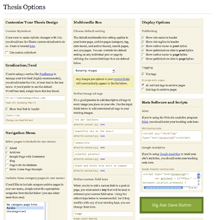 I'm headed out of town for the weekend, but when I return, I'll publish a huge launch post detailing all of the new features and changes to the theme. In the meantime, please know that version 1.0 represents a complete overhaul of the core code, and every template file has been improved in some way. Don't fret, though—your custom styles will still apply, with the only exceptions being a few elements that have been modified (for instance, sidebar headings are now served inside <h3> tags).
In order to hit the ground running, you'll want to place your existing custom.css file inside the new /custom folder. Other than that, you'll be able to control just about everything from the all-new Thesis options panel, which boasts a pretty intuitive interface.
Although I'm going to be out of town for the next couple of days, I'll be active here in the comments and in the forums, and I'll be anxiously awaiting your feedback on this—dare I say it—revolutionary new platform!