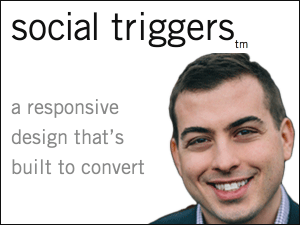 I've been waiting a long time for today, and I know you have, too.
Today, I get to introduce you to the first official add-on Skin for Thesis: Social Triggers.
These days, most theme companies brag about responsive designs, SEO, and other nifty features like HTML5 and microdata (markup schema).
But in 2013, we believe that's the just price of admission when it comes to creating a Thesis Skin.
So naturally, the Social Triggers Skin offers you a level of value that goes deeper than that.
I'll go into the details in just a bit, but first…
They thought I was crazy…
For years, my friends and business confidantes told me I was crazy because I wasn't selling child themes, even though Thesis was perfectly positioned to dominate the market.
But here's the deal:
Despite knowing the massive appeal and sales potential of Skins, I refused to release any official ones because I was never confident in how code-intensive, idiosyncratic, and hard to support they would have been on the Thesis 1.x platform (or on any theme that follows the standard WordPress theme and child theme architecture, for that matter).
Furthermore, the thought of my software causing you anguish or leading you down the wrong path is sickening to me, and I can't release anything I don't believe in 100%. Hence, no Skins.
But as of today, all of that has changed.
Thesis 2.1 is here, and so is the first official Thesis Skin, Social Triggers.
This new Skin proves that my friends were right—I was crazy…like a fox!
A Thesis Skin that's tailor-made for higher conversions
Yes, the Social Triggers Skin features a snappy, responsive design to go with the requisite "nifty features" like HTML5 and built-in Article markup schema.
But as I said earlier, that's just the price of admission when it comes to creating a Thesis Skin.
So what other good stuff can you expect from the Social Triggers Skin?
3 custom templates that are crafted specifically for higher conversions
an attention-grabbing, battle-tested feature box (more about this in a moment)
built-in email signup forms cleverly placed in high-converting locations
integrated logo support (simply upload your logo, and the Skin will automatically make it responsive for you)
Here's the thing though:
How do most companies create themes or child themes?
They have a designer come up with a design that they think "looks good" and "does the job."
Some smart designers even attempt to take advantage of the latest industry best practices for generating leads and converting sales.
And we applaud them for that.
But this Skin—the Social Triggers Skin—is different.
This isn't something that just came from a designer's imagination. It's a design that has been repeatedly tested and fine-tuned for high conversions over the last 2 years.
"Wait, what? Aren't you just releasing this today?"
Well, yes.
But we're calling it the Social Triggers Skin for a reason—it's based off Derek Halpern's blog, Social Triggers.
And it's the exact design that he's tweaked and tuned over the last 2 years to build his audience from scratch to more than 100,000 subscribers.
(If you don't know who Derek Halpern is, he's widely regarded as one of the top experts on conversion psychology.)
And now, with the Social Triggers Skin, you can have an even better site than he has 😀
Even better than the original
The Social Triggers Skin is designed to convert, and it's also designed to make it really easy for you to get started building your own email list.
With 4 email signup forms in high-converting locations and 100% integration with both MailChimp and AWeber (popular email campaign providers), you'll be ready to hit the ground running the second you install the Skin.
On top of that, you can use the built-in feature box to highlight can't-miss content (and, of course, a can't-miss email signup form).
(We also wrote about how the feature box is one of the best way to increase conversions.)
And since the Skin is integrated with Thesis' patent-pending color scheme picker, you have the power to create amazing color customizations in just seconds.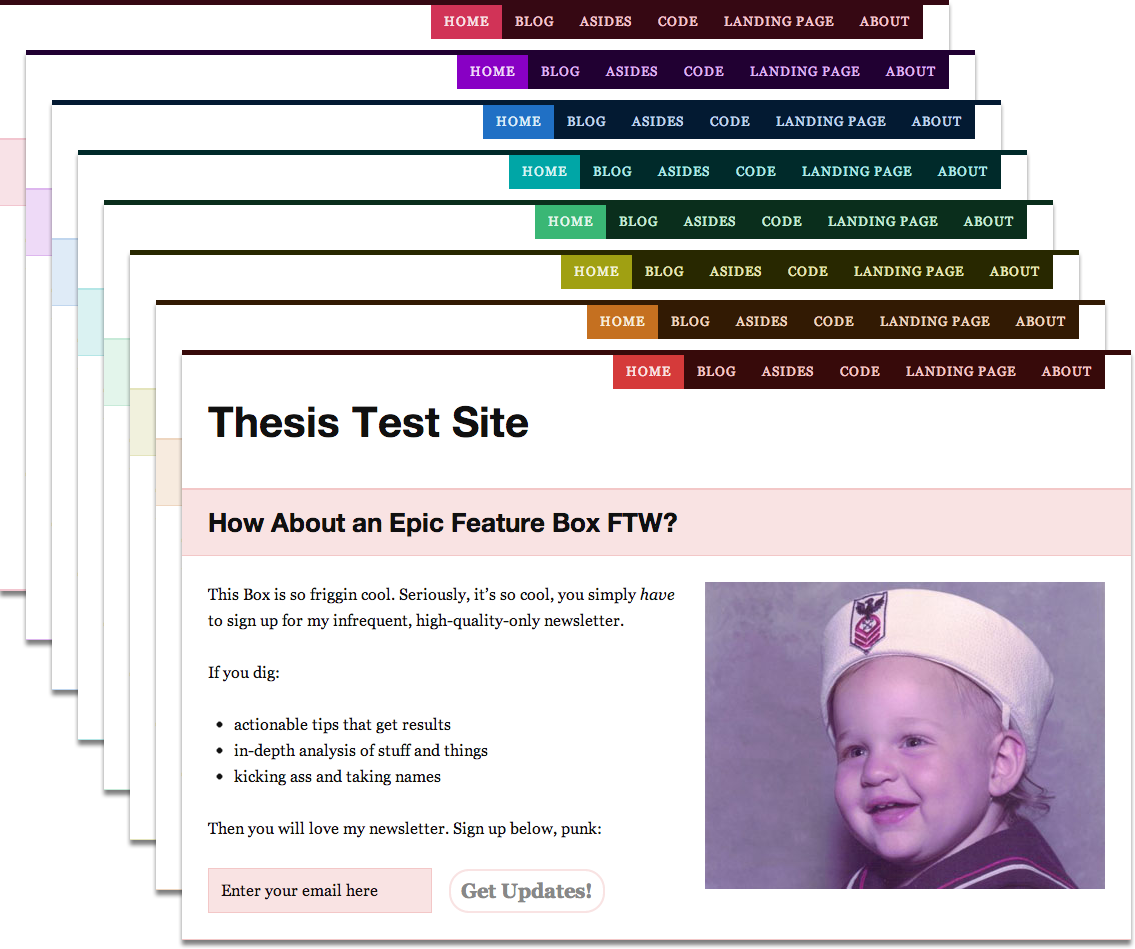 The bottom line?
There's no easier—or more optimized—way to run a top-tier website that's designed for lead generation and sales conversion than with the Social Triggers Skin.