Occasionally, we update our Boxes to add functionality and improve performance. You can follow the steps outlined here to update your Boxes and ensure that your site is always on the cutting edge.
Every 24 hours, your WordPress site automatically fishes for updates to Thesis, Skins, and Boxes.
To see if you have Box updates available, visit the Manage Boxes page in your Thesis Admin (Thesis → Boxes → Manage Boxes).
Updating Your Boxes
If updates are available for your installed Boxes, you'll see a highlighted notification with the number of available updates at the top of the page.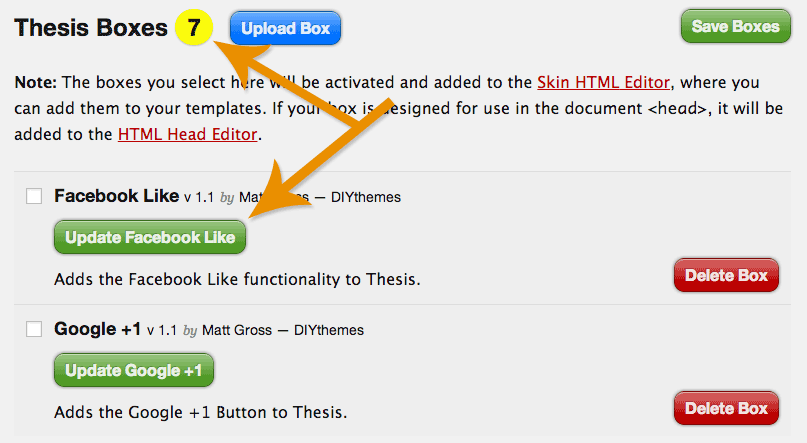 Each Box with an available update will have a green update button underneath the Box name; click this button to get the update.
Enhanced Updates with the Developer Tools Box
You can use the Developer Tools Box to enhance your Thesis updates.
First, you can turn on developer updates, which will give you early access to beta releases of Thesis, Skins, and Boxes.
Please note that due to the unstable nature of beta releases, we do not recommend using developer updates on live production sites.
Second, no matter which update channel you're on (regular or developer), you can force Thesis to check for updates by clicking the blue Check for Updates button. This way, you won't have to wait for WordPress to fish for Thesis updates; you can simply force it to look whenever you like.