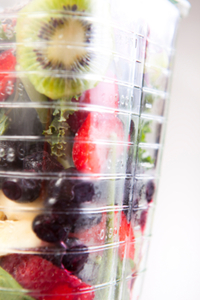 In the spirit of the SEO for Everybody series at DIYthemes, I invited the highly respected search engine optimization expert Nathaniel Broughton to share one SEO tip that bloggers can use to improve their search rankings.
And let me tell you, he sure did deliver.
Today you're going to learn all about what he calls "Link Blending." It's not obvious advice, but it's real easy to implement and it's a GREAT tip.
If you don't know Nathaniel, here's a quick rundown:
Nathaniel is a veteran internet marketer who's helped produce three Inc 500 winning companies. He is the owner of SuretyBonds.com and Growth Partner Capital, a venture fund with services in SEO consulting, online reputation management, and premium link building.
So we're glad to have him.
Now enter Nathaniel Broughton:
So what is link "blending?"
It's simply linking to your site and other authoritative sites at the same exact time.
Link Blending in Action
Here's an example:
Rae Hoffman is a well-regarded affiliate marketer, but doesn't rank in the top 3 search results (she's in the top 10).
So, for my link blend, I'll link both Rae and another blog who ranks top 3, Affiliate Tip.
Now this might sound like gaming the results, but as I said, Rae is a well-regarded affiliate marketer, and giving her the link in this way will help her rank higher (as she should).
Just like this:
"Website owners who monetize via Adsense can generate additional revenue through affiliate marketing programs [edit: link removed] outlined on industry resources like Affiliate Tip by Shawn Collins."
Here's another example of a good link blend:
"I recently talked with the head of SEO at a large SEO company called LSF Interactive [edit: link removed] to try and learn more about the challenges of enterprise-level SEO we might face at Growth Partner [edit: link removed]."
See what I did there?
I linked to both LSF Interactive, a top tier SEO agency, and my company in the same sentence.
Mind you, it made sense for me to link, and so I did. But people today refrain from linking out because they're worried it will hurt them.
But I'm saying that when it makes sense, you should almost always link to your sources—especially if you truly vouch for them.
The link "blend" can help you rank higher in search engines.
"Cool By Association"
If you abuse this strategy, it can easily be labeled spamming, so don't do it.
But again, when it makes sense, it makes sense. It's natural for similar sites to be linked together in unison. It's also natural to link your sources when it matters.
And that's the key takeaway.
Don't be afraid to link to sites that you believe are relevant. It can make you "cool by association."
Won't This Help the Competition?
It depends. Usually not, and there are a few reasons why.
First, you can find a non-competing authority to link to if you try. I used to be the CMO of Veterans United. We did VA loans.
So what did we do?
Instead of linking competing companies, we linked the government website on the program. They didn't actually do the loans, but were an authority because they set the guidelines.
It also made sense to link them, as a VA loan provider.
Another reason why I personally do not see link blending as anti-competitive is this: Are you really competing with that top ranking site, or do you just wish you were?
If you're not ranking for your desired keyword, it's smart to link the authoritative sites in your market because it creates the signal that you belong in the same conversation.
Enter Derek Halpern:
What a neat tip, right?
We live in a world where people rarely link to other sites. Heck, even some major news sources don't link sites they quote.
Why?
I'm not so sure… especially after reading this article. Linking out can actually help you, and limiting your links with hopes of gaming the rankings is just silly.
But as Nathaniel said… Don't abuse this strategy.