Every business who has a blog could use more traffic… you, me, all of us.
Question is how do you get it?
You could spend MONTHS working on your WordPress SEO, but if you're pressed for time, this simple tactic is the answer.
Keep reading.
The Power of a Transformation
Here's the deal:
Writing about a good transformation is one of the best ways to get traffic, land major media links, and social media shares.
What's a transformation?
It's exactly what you think it is. It's when someone changes something about themselves drastically.
For example, a story of someone who changed their body from flab to fit. That's a transformation.
Or as another example, a story of someone who went from thousands of dollars in debt to debt-free.
Those types of stories are transformations, and they're GREAT for getting attention because people LOVE the contrast between bad and good.
The David Siteman Garland Story
To really nail this point home, the idea that transformations are GREAT for attention, let me share the story of my friend David Siteman Garland, from The Rise to the Top.
Last year David decided he wanted to have a beach body. The problem was, he had the "I am obviously really good at World of Warcraft look."
But he worked at it, and soon he had what he wanted—a beach body, and a great transformation story. Here's the picture: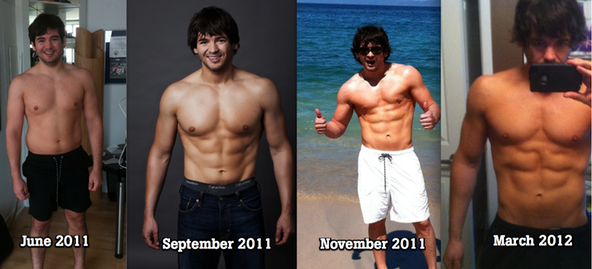 Now check this:
Once his transformation was complete, he was featured on Bodybuilding.com as one of their monthly transformations.
And now, months later, he's in the running to land a two-page spread in Iron Man Magazine.
How crazy is that?
I bet if I sat David down a year ago, and asked him, "Think you ever have a shot of landing a two-page spread in a fitness magazine?"
He probably would have laughed.
But his transformation allowed that to happen. His transformation got him TONS of exposure and free traffic.
For example, he also landed a COVER story in Small Business Monthly as one of St. Louis's Fittest CEOs. Here's the picture: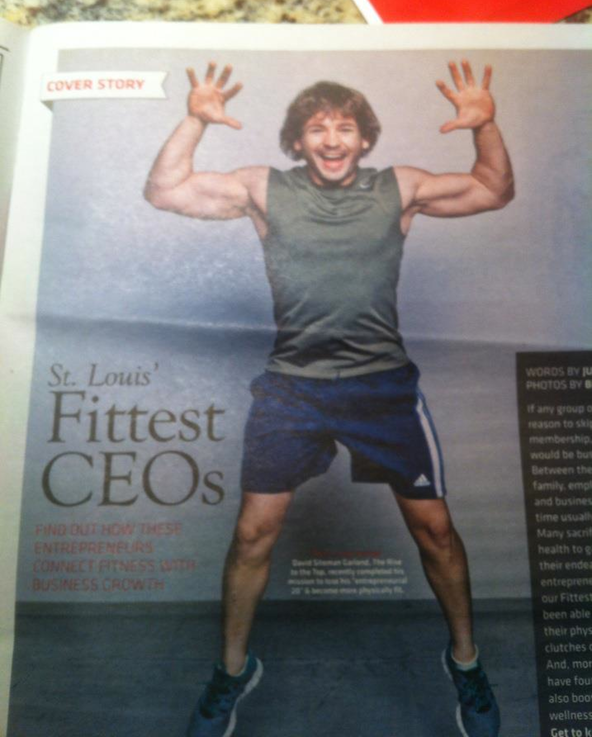 The Secret to a Great Transformation Is…
I've told people about the power of transformations before, but they almost always say something like, "Well, it's been done before."
But here's the deal:
The secret to a great transformation has nothing to do with whether the transformation was unique.
Why?
It's simple. EVERY transformation is unique because when you add a new person into the mix, it's unique by default.
Then what's the secret?
The secret is CONTRAST. The more contrast between the before and the after, the better.
What If I Never Transformed Myself?
That's a good question.
And the answer is it doesn't matter.
You don't have to be the person who transformed. You can simply write about someone else who transformed…much like what I'm doing here.
Or you could write about one of your readers, fans, or friends, and you're set, too.
Just remember, the more contrast between the before and after the better.
What Types of Transformations Work?
Despite the media being overrun with negativity, the best transformation stories are positive.
No one wants to read about someone who went from fit to flab. They want to see someone go from undesirable to extremely desirable.
Why?
People look at those transformation stories, and imprint themselves on the person who transformed.
Or, in other words, people want to imagine themselves going through that same transformation.
So, unless you're dealing with some kind of weirdo, no one wants to imagine themselves going from debt-free to debt-ridden.