The Thesis Gallery Showcase is back, and it's better—and more informative—than ever before.
First, all of the sites in the showcase are running the latest version of Thesis. Now you can browse in confidence, knowing that every site is using the same basic platform as your own site.
Second, we've added filters that let you browse by Skin, site type, designer, and developer.
I'm particularly excited about the designer and developer filters because they'll help generate exposure for the most talented people working with Thesis today. (And hey—if you're looking for professional help with your site, this is a great place to begin your search.)
Also, you'll be able to use the Skin filters to help determine which Skin is best suited for your next website project.
And speaking of finding great Skins…
Coming Soon: A New Premium Skin!
The fine gentlemen at Themedy Themes have been making top-notch Thesis Skins for nearly two years, and they've recently produced the second Skin in our premium designers' series (you may recall that Promo was the first).
We'll unveil this new Skin in a couple of weeks, but I wanted to go ahead and give you a little teaser of what's to come.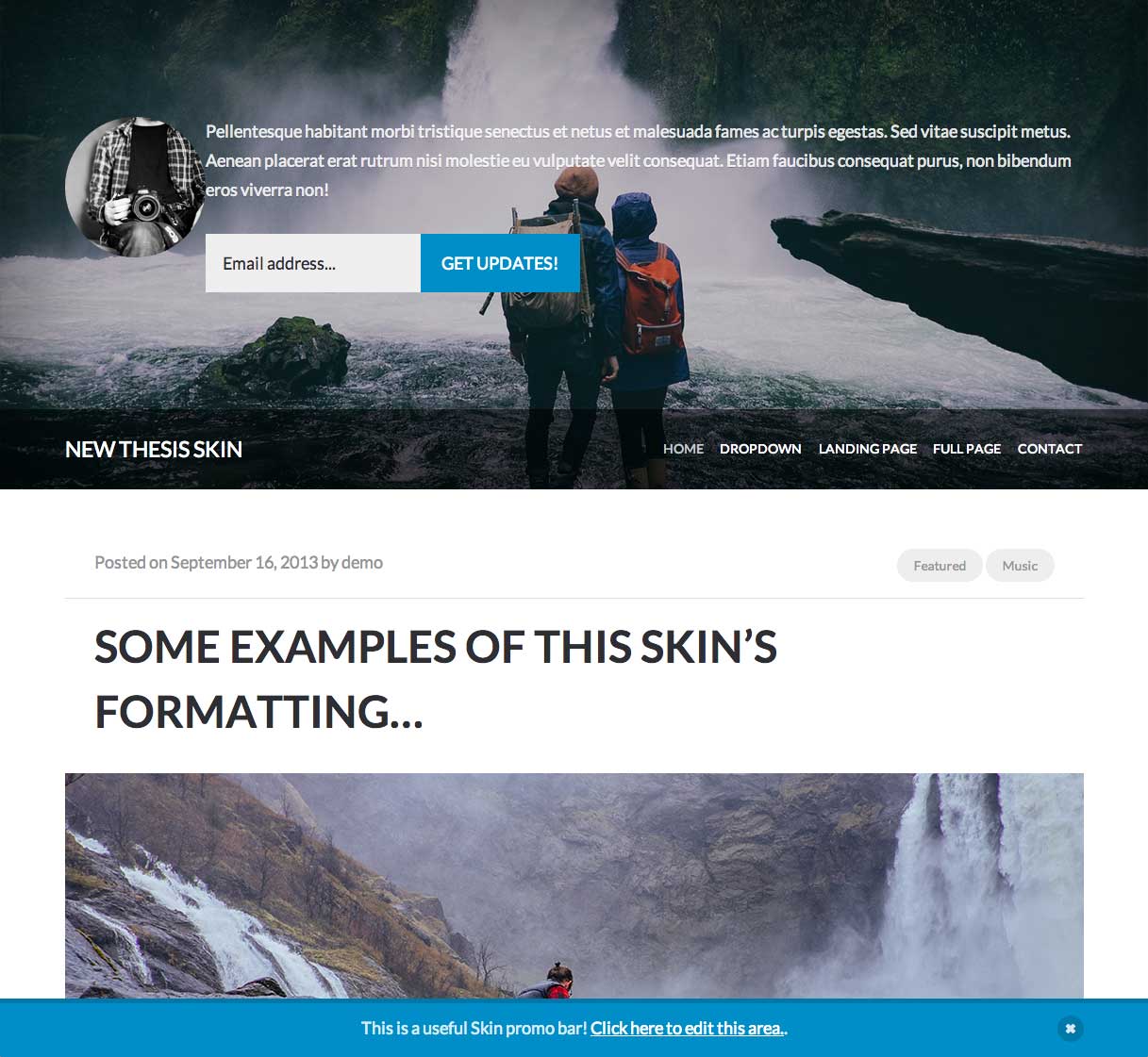 For starters, you'll get a big feature area on your home page that's designed for optin-style conversions (or just introducing yourself or your business in a bold way).
Next, you'll be able to use this feature area on your posts and pages for big, beautiful pictures and headlines that will really stand out.
Finally, this Skin will come with detailed Landing Page and Full Width templates that are perfect for conversions of all kinds—product sales, optins, you name it. I'm fond of these templates simply because they provide an easy and effective way to channel your audience's attention, and in my experience, that always yields the best results.
I'm looking forward to sharing this new Skin with you in the near future…you're gonna love it!
About the Author: Chris Pearson, Thesis creator and DIYthemes founder, is obsessed with optimizing the web and making sure every last detail receives the attention it requires. Follow DIYthemes on Twitter for the latest tips and info on building effective websites.
If you enjoyed this article, enter your email below to get free updates!