Check out the Social Triggers Skin Demo!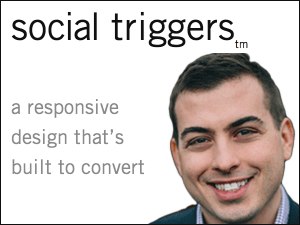 I've been waiting a long time for today, and I know you have, too.
Today, I get to introduce you to the first official add-on Skin for Thesis: Social Triggers.
These days, most theme companies brag about responsive designs, SEO, and other nifty features like HTML5 and microdata (markup schema).
But in 2013, we believe that's the just price of admission when it comes to creating a Thesis Skin.
So naturally, the Social Triggers Skin offers you a level of value that goes deeper than that.
I'll go into the details in just a bit, but first…