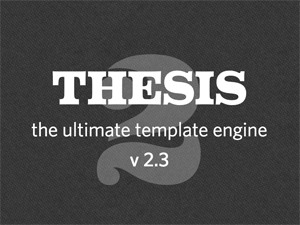 With each passing day, the future of your website depends more and more on two things—speed and integrations.
As you know, Thesis has always had you covered on the speed side of things. Version 2.3 brings you even better performance on both the front end and the admin side, so your site will be faster and more efficient than ever before.
But integrations? What does that even mean?
It's simple. One piece of software—no matter how good—is not going to serve all your needs. To achieve your website goals, you're likely going to need to integrate at least two pieces of software (and probably more) to get everything working the way you want.
For example, the DIYthemes website relies on no fewer than 4 different software integrations…and take it from me, it can be a real pain to keep up with this stuff over a long period of time!
This is a big reason why we've decided to refocus our development efforts on enhancing software integrations with Thesis.
First up? A best-in-class WooCommerce integration in Thesis 2.3, and there's a bonus—this integration will automatically work with any Thesis Skin!
In other words, if your site didn't "just work" with WooCommerce before, it will now! Read on for the juicy details.